Purus Degreaser 10 is a powerful & safe ready to use, all purpose cleaner & degreaser containing natural orange terpenes. Can be used on all washable surfaces, carpets & fabrics, including terrazzo, stainless steel and colourfast upholsteries. Can be used neat as a concentrate or diluted. Learn more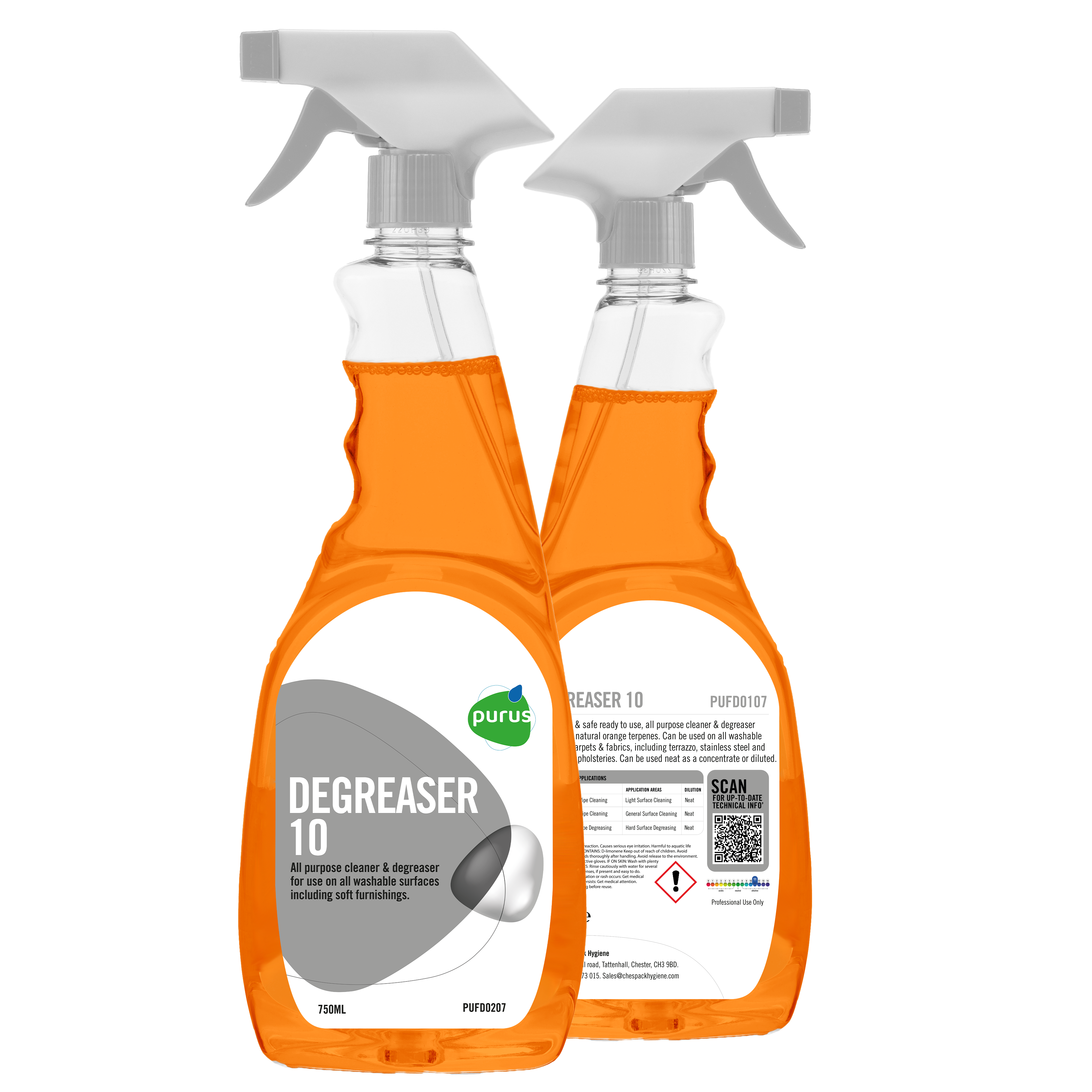 Purus All Purpose Degreaser 10 | 6 x 750 ML
6 x 750ml
A powerful & safe ready to use, all purpose cleaner & degreaser containing natural orange terpenes.
Can be used on all washable surfaces
Can be used on carpets & fabrics
Can be used neat as a concentrate or diluted
What our clients say
#customerdelight
Chespack Hygiene have helped us to streamline our cleaning supplies as well as helping us tick boxes such as greener cleaning and buying safer products that are alcohol free. For a school environment these things are very important.
For me, one of the key factors in the whole success of this partnership with Chespack Hygiene has been the attention to detail right from the outset. I could see the detail that was going into helping us obtain our goals, the focus was on us and that gave me confidence when the solutions were proposed.
Chespack is a great company with great products and excellent customer services, they have value for money products and always put the customer and their needs first, all products are top class and have made a great difference to our cleaning procedures. Chespack really are top class.
I have recently started working with Jasper, he has been able to recommend some very cost-effective products to me and has been a valuable source of expertise on some cleaning issues I have had to solve
From day one when the team arrived at our business in Stoke, they were professional, gave great demonstrations involving the staff and letting them use the equipment. Delivery date was arranged and another training day to ensure we were all comfortable with our purchases. Great customer service and knowledge shown on the products. Thank you all.
Chespack are a first class company providing excellent products and outstanding customer service. We couldn't have asked for more this year - Chespack have gone above and beyond to ensure our Hygiene team are confident and comfortable in their role, delivering training and always on hand with their expert knowledge. We look forward to another year working with a great supplier - thank you!